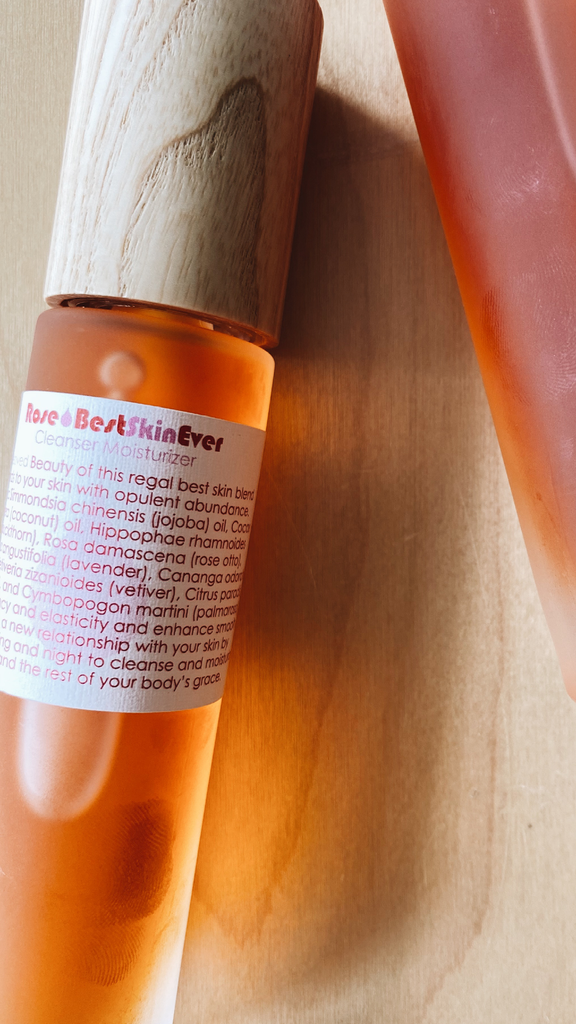 Maybe it's good branding, maybe it's the influence of Instagram— lately I've been buying my skincare based on the founder. When I discovered more natural skincare brands (courtesy of our local Richmond, Virginia wellness shop: Boketto Wellness & Living), it was like seeing the world with new eyes. I threw my symbolic Cetaphil in the trash and never looked back. The possibilities are truly endless when it comes to natural skincare, and so are the prices… Buying skincare based on founder has helped me to seed out the good stuff and the little splurge is worth it when you know exactly who you're supporting. 
A few months ago, when I first began doing content for Elizabeth Few Studio, Elizabeth and I had an amazing discussion about simple, natural skincare. We realized that with all the options available, the best way to shop is to narrow it down by the founder. The brands I keep stocked in my bathroom have founders that are intensely active within their brand, from Lesse to H is for Love to Shiva Rose, and even Glossier. I do a fair amount of research as a content coordinator, and so I'm always trying to stay up to date on the latest in natural beauty— I love to read interviews on CEOs like Gloria Noto of NOTO Botanics and Kristina Holey whose Marie Veronique collaborative line is nearly impossible to keep on the shelves! My best advice is to check them out on Instagram, see how they interact with their customers, and try to figure out their vibe. I believe that energy is of the utmost importance, from process to presentation— when there's good energy behind a brand, you can really feel it. I try not to add anything to my routine before I'm able to determine why exactly I'm seeking a change. I'm a lover of beautiful packaging, so thinking about the "why" of new skincare has really made me appreciate the products that I use over and over— and makes new skincare all the more fun!
One of my favorite things about natural skincare is its emphasis on minimalism. I used to think I needed four different serums, three different oils, and a rainbow of hydrosols and acids to keep my skin in check. Speaking to a trusted esthetician— Anne at Boketto is a life-saver— helped me to hone in on the core ingredients and materials that nourish my skin, without stripping it or damaging it. Currently, I use Living Libations "Rose Best Skin Ever Cleanser/Moisturizer" in the shower (as pictured). I do this twice. Once to cleanse, and then a small amount when I'm out of the shower all over my face and neck. Next, I use PAI Skincare's "Redness Relief Serum" because I'm Irish and have the very pink combination of both sensitive skin and a touch of rosacea. Then I combine two drops of NOTO Botanics "Deep Serum" and Marie Veronique's "Protective Day Oil" and slather that all over my neck and face. I finish it all off with a small measure of Glossier's Futuredew, which is a nice primer for my Chanel Aqua Lumiere Foundation, which has SPF in it. In the summer, I try to stick to skincare-only so that my freckles have a chance to shine. Then I'll also add a layer of Vive Sana sunscreen and skip any make-up to try to obtain a golden-hour glow. At night, I cleanse again with Living Libations and use Shiva Rose "Rose Face "Oil." This simple nighttime routine has worked much better for me than an extensive night time routine because it gives me time to gua sha and perform a facial massage— which stimulates collagen and promotes blood flow.
The biggest-game changer for me, which some might see as a luxury, is a silk pillowcase. I've deemed my silk pillowcase an absolute necessity and the true secret to great skin. I highly recommend our pillowcase in "Seeded Eucalyptus." I'm generally a white-bedding-only type of girl, but I'm a changed woman after seeing Elizabeth's natural dying process and gorgeous, subtle details. Cotton can create micro-tears in the face (no, thank you!), and it also absorbs all those gorgeous serums that you just layered on with care. Silk is non-absorbent and naturally-hydrating, so you can rest easy knowing your skin is taken care of. Shop our pillowcase collection here. Have a beautiful sleep...