The Magic of Natural Wine | An Interview with Lyne Doetzer of Restaurant Adarra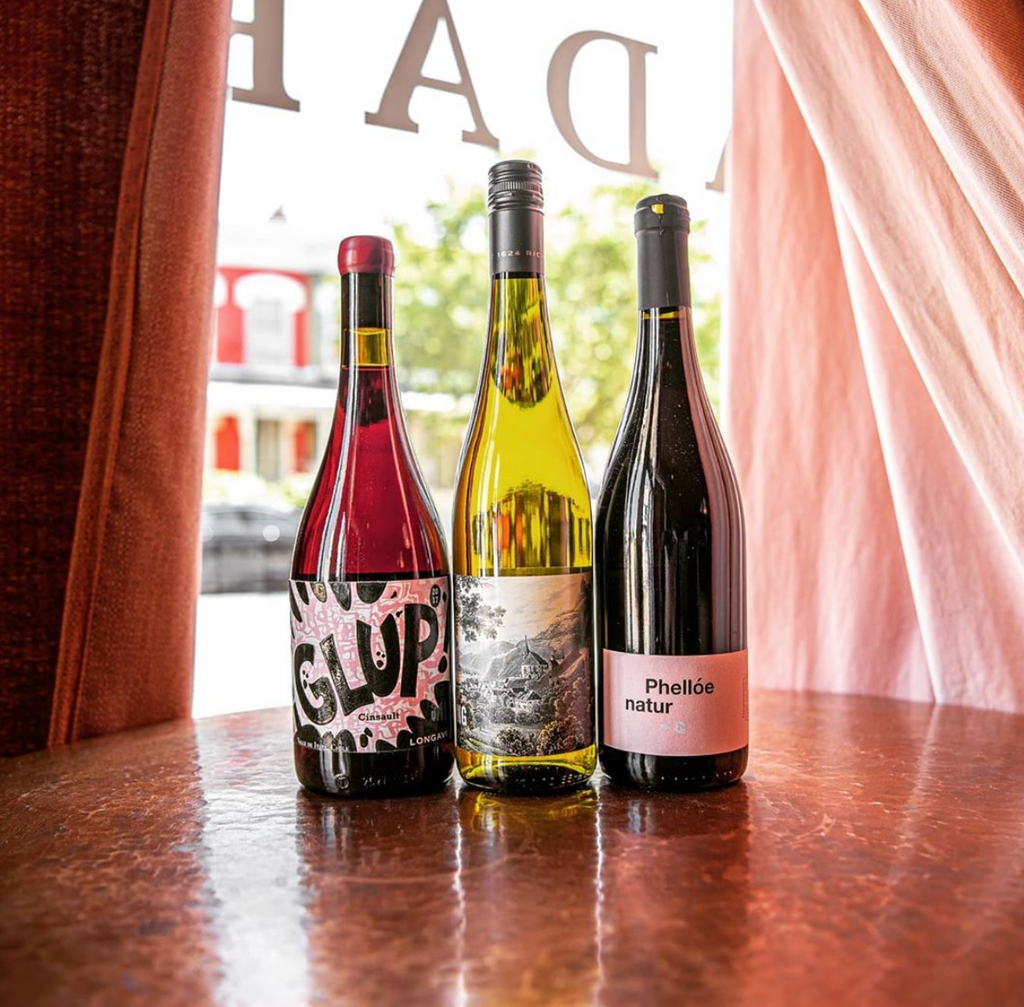 Lyne Doetzer is a Level Two Sommelier and co-owns Restaurant Adarra, located in Jackson Ward in Richmond, VA, with her husband Randy— who is also a chef and Level Two Somm.
1. How did you become interested in natural wine?
I became interested/fell in love with natural/biodynamic/organic wines about three
years ago when studying for my Level 2 Sommelier exam through The Court of
Master Sommeliers. Randy, (my husband, chef, and co-owner of Adarra) and I
were preparing for the exam together by blind tasting over 30 different varietals
of conventionally made wine. Our "reward" was drinking lovely and responsibly
made natural wine. The difference was polarizing— like eating a juicy, ripe
heirloom tomato you grew yourself versus a flavorless, mealy, GMO, tomato! I
was hooked from then on. You can taste the terroir (the unique geotag where the
grapes are grown, soil, climate, etc), taste and smell the grape itself, creating a
transportive experience. To support these small independent growers similar to
ourselves is paramount. They work the land themselves many for generations,
hand harvest the grapes, and put their zeal for wine into something you can
taste. Now who doesn't want to drink that?
2. What do you look for when selecting a good bottle of wine and what are three tips for our readers who are interested in starting their natural wine journey?
When selecting a good bottle of wine start where I did— do your research. The topic of wine in of itself is massive, like an iceberg bobbing in the ocean. On first glance one sees a tiny sliver peeking out above the water's surface, but underneath— an expansive chunk of ice waiting to be explored. First, I would say, go to a restaurant or wine shop that specializes in natural/biodynamic/organic wines and ask the people who sell them! Second, circling back to the research aspect here are two books that I found to be incredibly helpful in the early beginnings of your journey and ones that I reference often— I am always learning too!—The Dirty Guide to Wine: Following Flavor from Ground to Glass by Alice Feiring and Natural Wine: An Introduction to Organic and Biodynamic Wines Made Naturally by Isabelle Legeron— M.W. Both books are beautifully written, and add a playful nuance to a topic that can get ahem, a bit dry. Each book includes a helpful "Producer List," to help you familiarize yourself with wine growers themselves, their location, and what kinds of wine they make. A wonderful road map to get you started. Lastly, taste! I know this may sound obvious but, tasting is how you learn. Over the years I have tasted some earth shattering, delicious, time-stopping juice, and on the other hand, some gosh awful wine! It's a learning process for sure. Do not get frustrated!
3. What's a common misconception about natural wine, and how do you seek to address these misconceptions through your work with Restaurant Adarra?
One of the common misconceptions I think most people have about natural wine is that the wine will be "too funky", or will have off-putting flavors. If the wine does, in my opinion, an error occurred in the wine making process. The wine should be balanced. Period. Nowadays folks are choosing to source and buy clean, nourishing foods- why would you not want to drink a wine that is made with in the same way? No chemicals, artificial yeasts, dyes, etc. Many wines are actually made in laboratories. In the US there are over 50 "legal additives" that can be used in making wine— (ever heard of Mega Purple? Look it up) why on earth would you want to drink that? At Adarra we have spent hundreds of hours tasting and weeding out what we believe is a good benchmark for a natural wine versus a poorly made one. By supporting restaurants and wine shops like us, together we are cultivating a client base built on a level of trust. I am not here to tell you what you need to drink or what you need to be tasting. Or make you feel inferior because you may not know all the information— (I despise that character trait in a Somm, or in any hospitality professional for that matter) I am simply your guide. I want you to drink the most beautifully made wines out there. The responsibility is in the guest's hands too, to be willing to go outside your comfort zone. You may never know what you will like or not.
4. If you could drink any natural wine in the world right now, what would it be?
If I could have a bottle of Georges Laval "Garennes" NV Champagne right now everything would be alright. Produced in a little town of Cumières located in the Épernay district of the Champagne region of France made my jaw drop this New Year's Eve! Uniquely made with 100% Pinot Munier, (most Champagnes are made with a blend of Chardonnay, Pinot Noir, and Pinot Munier, not always, but most commonly) Never have I had a wine made exclusively of Pinot Munier. Holy moly! The wine was imbued with a golden hue and a nose that smelled faintly of toast and delicate white flowers. The taste was explosive! Tiny bubbles danced crossed by tongue, followed by savory note- like amber and white pepper, then a wave of minerality hit at the finish. All of this occurred in 0.4 seconds. Hands down one of the best wines I have ever had in my life. And that is how wine should be- Living in the moment!
5. Restaurant Adarra has quickly become a Richmond gem— do you have any big dreams/plans for the next decade?
Opening the doors to Adarra this past year, (we celebrated our one-year anniversary February 14th, 2020) has been one of the wildest rides ever! We are humbled and grateful for the clientele allowing us to share our passion for natural wines with them. In light of our current situation, as we ALL are facing right now with the COVID-19 outbreak, the uncertainty is looming. However, our goal is to re-open as soon as possible. To keep the conversation going, Randy and I have started a wine delivery service. We highlight our smaller wine importers and curate a bag filled with 3 wines delivered to your door. All proceeds go to help our staff during these trying times. Check out our Instagram for more information.
Thank you for allowing me to share my thoughts with you. Take the time to celebrate you and the ones you love and enjoy what you are drinking. You deserve the best.
Be well and cheers!

Fondly,

Lyne A. Doetzer

To order local wine delivery from Restaurant Adarra, email them at info@restaurantadarra.com with your name, address, and phone number. Visit their website
here
.